---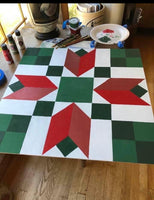 In this online workshop Facebook private group video series Tricia will walk you through step by step on how to create a beautiful barn quilt ready for outdoor display! In this session (a series of videos in bite size segments of 10-20min so you can enjoy!) you will learn how to:
* Easily grid a 24 x24 size layout
* Use Tricia's system for pattern layout and checking colors
* Labeling your quilt for stress free painting!!
* What's the right paint? What's the right paint? I hear all these opinions! — Find out in this class.
* Tricia's proprietary formula for sealing and protecting your quilt for the harsh weather conditions!
The class will be ready and provided in a private Facebook group to get access to the teachings and also the ability to chat with one another! In addition you will have access to the teaching materials for life AND you don't have to watch at a certain time because Tricia will be in the group with you and load up the video each day the week of May 15 1 for 5 days!  And with you to answer questions as you watch those days and follow along. You can watch on your own time as Tricia deals with a Chronic Pain illness and knows how helpful it is to be able to watch videos from bed etc to learn and then do art. YOU are her passion. She hopes art inspires you to grow more joy, happiness and hope in your life! ❤️☺️
sign up and let's have fun!!